Gays: With the Narcissism and the Twinning
"Gemini: Jean and Paul are identical twins. Outsiders, even their parents, cannot tell them apart, and call them Jean-Paul. The mysterious bond between them excludes all others; they speak their own language; they are one perfectly harmonious unit; they are, in all innocence, lovers.
For Paul, this unity is paradise, but as they grow up Jean rebels against it. He takes a mistress and deserts his brother, but Paul sets out to follow him in a pilgrimage that leads all around the world, through places that reflect their separation—the mirrored halls of Venice, the Zen gardens of Japan, the newly divided city of Berlin. The exquisite love story of Jean-Paul is set against the ugliness and pain of human existence. Gemini is a novel of extraordinary proportions, intricate images, and profound thought, in which Michel Tournier tells his fascinating story with an irresistible humour."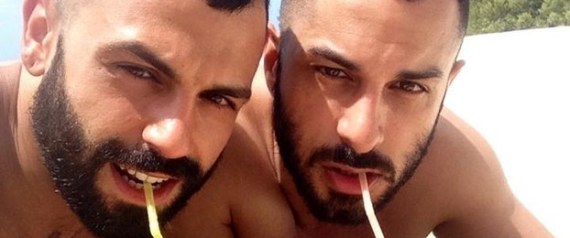 Narcissus and Necessity:
Why Are We Creating Virtual Realities
During the 1890s and early 1900s, a change took place in America and Europe that would have profound consequences for popular culture. We can mark its starting point as 1894 when Thomas Edison marketed a viewing device called a Kinetoscope, which allowed one person at a time to look at moving pictures on a loop of film. The next year, two French brothers, Auguste and Louis Lumiere, gave the first commercial demonstration of moving pictures that were projected onto a large screen. With their invention, a new form of entertainment that came to be known as the movies was born.
As one would expect, the movies quickly became a source of public fascination. Suddenly, there was a technology that could capture the appearance of events in images. Those images could then be replayed so it seemed that they were being repeated exactly as they occurred, in a simulated three-dimensional space displayed on a screen. As audiences watched these moving "replicas" of reality, they felt as if they were seeing something close to magic, in which they could look in on other times and places, and escape the limits of everyday experience.
But the production of movies quickly went beyond the mere filming of events. As it evolved, the movies took a form they still have, today. First, film images were created of costumed actors performing on realistic stage-sets and in genuine settings. The images were then edited so the order in which the performances were filmed was rearranged into a fictional sequence of events. In essence, movie directors were doing what the designers of rain forest exhibits do: they were seamlessly weaving together all kinds of elements, some authentic, some fabricated, to create a composite, a sensory simulation that told a story. As audiences sat in a darkened room, watching these stories unfold on the screen, they experienced a sensory and psychological immersion in a simulated world.
To some in the industry, however, it was obvious that movies could be made more immersive. After all, if one could create a replica of reality by displaying images on a screen, then one could also make it seem that members of the audience were inside the world of images by surrounding them with a number of screens or bringing them right up to one screen. Or one could make it seem that the simulation had come into the theater, by giving the images a three-dimensional appearance or by placing props and sets around the audience that continued the movie's theme.
The history of the entertainment industry in the last century is partly the story of efforts to turn the movies into such an immersive environment, from semi-circular screens that filled much of the audience's field of vision to techniques for bringing the movie to the audience, such as AromaRama and the earthquake-imitating vibrations of Sensurround. As the last chapter describes, Disney was created out of this same desire to place audiences in a world of fantasy modeled after the movies.
Today, almost a century after people began dreaming of this possibility, we are beginning to accomplish it with a new generation of immersive theaters. Like rain forest exhibits and theme parks, immersive theaters are beginning to appear around America and, to a lesser extent, elsewhere. The technology that makes them possible is computers, which have also made it possible to orchestrate many of the elements of artificial rain forests.
Send us more articles in this fascinating vein, after all, it's all about us, right?
Edwin Crossley-Mercer: give a listen
24
Locked in the American Dream Closet
From the scintillating blog, Envisioning the American Dream: "In the 1930's. my bachelor  Uncle Harry was a social realist painter who learned the bitter social realities that surrounded a gay man in early 20th century America.
Trained under artist John Sloan, the well known Social Realist  at N.Y.C's Arts Students League, Harry had been a successful commercial artist in the 1920s, working as an illustrator at a NY ad agency.
However in 1929 when everything came crashing down on Black Friday, he found himself among the legion of unemployed, wistfully watching their savings dwindle.
Because there were no jobs for young artists during the Depression, Harry decided to travel to Europe where he could live inexpensively and paint.
Anchors Aweigh
Hopping an oil freighter bound for France, the former sailor, who having served stateside in the Navy during WWI had never actually been afloat, finally got to test his sea legs.
Eventually settling in a Majorca  fishing village,  Harry serendipitously encountered two  old pals from the Arts Students League, gay artist Paul Camus and Jared French.
A New Deal For Artists
By 1933, Harry's  younger brother wrote him with exciting news about a newly formed government sponsored Public Works of Art Project, the first Federal government program  by the FDR Administration to support the arts. The project was a precursor to the WPA .
That fall with their passports about to expire and money dwindling, Camus convinced Harry to join the Public Works of Art Project with him and return to the states.
Begun in the depths of the Depression in December 1933, the PWAP did more than supply jobs to unemployed artists.
Like the other accepted artists in the project, Harry developed a sense of pride in serving his country.
Painting murals for Federal buildings, he was encouraged to depict everyday American scenes that would reinforce quintessential American values of hard work, freedom and optimism reminding a struggling public of the American Dream."